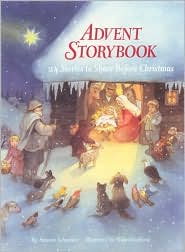 Although we're halfway through Advent, I just received three wonderful books for children that are beautifully illustrated and convey helpful thoughts in this season.
The first,
Who is Coming to Our House?
, is a sweet board book for very young children. The animals in the manger anticipate the baby Jesus' arrival. The illustrations are simple and the message plain.
The next,
Waiting for Christmas
, is a lovely, large book and is part of a series of books about Christmas customs and traditions around the world. This nicely illustrated book written my my classmate and colleague Kathleen Long Bostrom, details the origin of the Advent calendar. It would be perfect for a child between 5-9.
Finally,
Advent Storybook
has really great illustrations and contains 24 short, meaningful stories for children who are anticipating Christmas. I believe that there's also an Advent calendar that can be purchased separately.
Lots of material here for use at home, Sunday School, children's sermons, and one's own enjoyment!