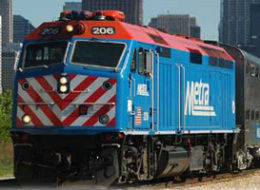 Today's an exquisitely beautiful day here in Chicagoland. It's sunny, warm and the sky is cloudless. DH is at his first day of his
new work
, FBC is at her job, SBC is on day 2.5 of his first mission trip. He and sixteen others from the church I serve are in Eastern Kentucky with
Appalachia Service Project
.
Today is the first Monday I've had off in quite some time. I began it early, by taking DH to the train. "You seem really excited about this," he said, and I realized I was. I grew up in a suburb of New york City and commuting on the train was a really big part of my family's life. I remember the fun of waiting for my family members to return home on the train, signaling the beginning of evening and family fun. Less romantically, I'm pleased that the new job brings some stress relief without an hour-long drive each way. When DH is in the city, it's a quick, twenty minute train ride and a short bus ride, or a longer walk, from Union Station to his new office on Michigan Avenue.
Today feels like a fresh, new start. It's so nice to having DH off pursuing meaningful work again. It's so nice knowing that our kids are off doing meaningful things as well. Today has been a good day for life-work balance, for sitting quietly, for taking a good thirty minute walk and reveling in some new itunes, for having time to plan a delicious dinner for the family when all return.
And I'm going to meet a
6:04 p.m. train
...